TREC SPECS Optical Disensary
In addition to ophthalmology services, Tennessee River Eye Clinic has now opened its optical dispensary. TREC SPECS gives you the convenient option to select your eyeglass frames and lenses at the same time and place of your exam. TREC SPECS Optical in Sheffield is the place to get your next eyeglasses.
TREC SPECS offers a wide variety of designer and standard frames as well as quality sunglasses to choose from. Our opticians are qualified to help you select the perfect frames and then pair them with the best single vision, bifocal, trifocal, or progressive lenses for your needs.
Glasses Starting at $99.

---
Now offering Maui Jim sunglasses!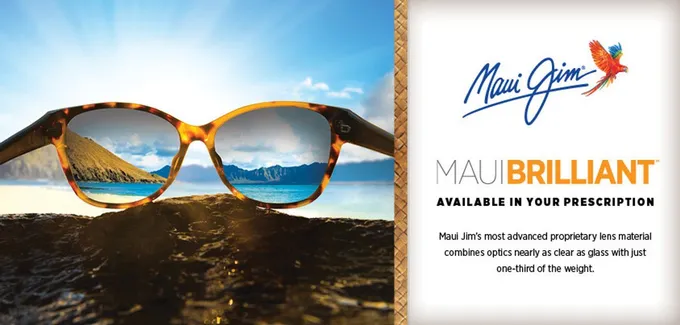 ---
YOU DESERVE THE BEST.
What's unique about eyeglasses is that they blend both fashion and function. Our opticians at TREC Specs Optical are specially trained to help you choose a frame that is flattering to your face, as well as work perfectly for your lifestyle. We have quality frames at competitive prices. Your bifocal will fit in your frame.


---
When choosing eyeglasses, we work closely with you and consider aspects of your lifestyle and vision, such as…
*Do you currently wear eyeglasses?
*How many pairs of glasses do you currently wear?
*Do you currently wear sunglasses?
*What types of activities do you wear glasses for?
-Reading/near work
-Driving
-Watching TV
-Computer work
-Safety protection from sunlight/UV
*Have you ever experienced any of the following conditions?
-Eye fatigue or tired eyes
-Eye strain/squinting
-Trouble with glare from natural light (daylight/sunlight)
-Trouble with glare from "indoor" light (fluorescent lighting, reflections from computer or TV)
-Trouble with glare while driving at night
Whatever your vision needs, we have the latest and most fashionable frames and high technology lenses at competitive prices. Stop in and see our selection of fine eyeglasses from Ray Ban, Wiley X, Guess, Ferrigamo, Calvin Klien, Nike Kenneth Cole, Wiley X, Marciano, and many other designer brands.
Our optical department is staffed with opticians of many years of experience, ensuring you will receive the highest quality prescription and non-prescription eyewear and the personalized service and attention to detail that you deserve.
---
Dr. Lenz is a VSP provider!