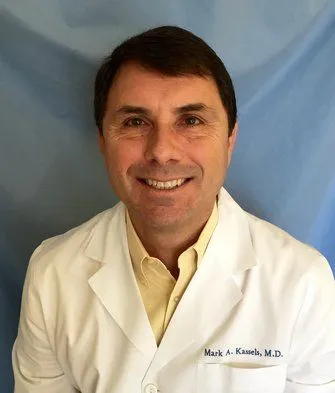 Mark A. Kassels, MD grew up in Daytona Beach, Florida. He graduated 1986 from Emory University, with a BA in chemistry, where he finalized his childhood decision to become an eye doctor. He received his MD from Emory University School of Medicine in 1990, completed a transitional internship at Georgia Baptist Medical Center in 1991, and completed his Ophthalmology Residency at the Alton Ochsner Medical Foundation/University of South Alabama combined program in 1994. After working in group practice in Birmingham and Atlanta, he opened/ incorporated Tennessee River Eye Clinic in 1999.
Board Certified since 1996, he is a member of the American Academy of Ophthalmology, American Society of Cataract and Refractive Surgeons, American Medical Association, and Medical Association of the State of Alabama. Dr. Kassels practices general ophthalmology including cataract surgery, specialty intraocular lenses, laser treatment, glaucoma management, and exams in the office. Eagerly, but patiently, he waits for the latest innovations in specialty IOLs and minimally invasive glaucoma treatment. He brings his extensive training, decades of experience, and common-sense approach to every patient's examination. Sometimes a patient will ask, "What would you recommend if I was your mother?" He honestly answers, "Exactly what I just told you!"
Mark and his wife, Allison, have 3 children. In his spare time he enjoys his family, Lake Wilson, fitness, and projects around the house. Hobbies come and go--his enduring passion is your best vision!
Jan C. Lenz, OD is originally from Port St. Joe, Florida. She attended both Bryan College in Dayton, TN and University of Alabama Birmingham, graduating with a BS in Natural Science from UAB. She completed her Optometry training at UAB School of Optometry in 1990. She practiced in Montgomery before moving to Muscle Shoals in 1995, and has been practicing here since. Dr. Lenz has excellent clinical skills and judgement and has experience fitting a wide variety on contact lenses.
Jan and her husband Jason Lenz, who is from Muscle Shoals, have 2 grown children, Alex and Olivia. She is active in her church's music ministry, enjoys playing Bunco, and traveling. Dr. Lenz looks forward to taking care of former and new patients at Tennessee River Eye Clinic.